International cooperation
Within the scope of the Croatian-Polish Presidential Three Seas initiative and consistent with the strategy of internationalization aimed at expanding the domain of its activities outside the country's borders and attracting foreign companies to Zagreb, the Zagreb Fair and PTAK Warsaw EXPO signed the Memorandum of Understanding, defining the form and the scope of their future partner cooperation.

The official signing ceremony was held on 7 July 2017 in the presence of the Presidents of both countries, Mrs. Kolinda Grabar Kitarović and Mr. Andrzej Duda.



Having in mind the common goal to increase competitiveness in their countries and consequently in the region, the two parties will focus on using all potentials arising from the mutual cooperation, especially on trade fairs, conferences and other business events they organize by bringing together companies with exhibitor status, trade visitors, business associations and other interest groups with the purpose of strengthening and promoting the exhibition industry and other industries in their countries and the region.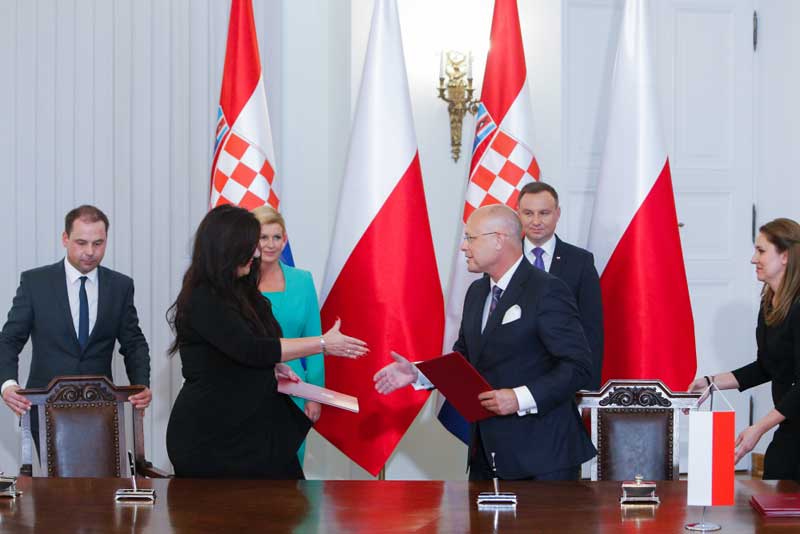 The PTAK Warsaw EXPO is the largest trade fair and congress center in the Central Europe annually organizing 30 fairs at a highly professional level that are held in 6 modern exhibition pavilions with a total area of 143,000 m2 and at 500,000 m2 of open-air space.

The Zagreb Fair thanks the PTAK Warsaw EXPO for the expressed trust and established foundations of the cooperation that will contribute to the development of overall economic relations between the Republic of Croatia and the Republic of Poland, especially in the sectors of food, agriculture, interior design, energy, industrial machines and equipment, catering and hotel industry, beauty industry, eco and organic products, green building and yachting.



With this Memorandum of Understanding the Zagreb Fair continues the process of its repositioning and opens as a dynamic business platform and a meeting venue for business activities of the Central and Southern Europe, all in line with its vision to become the national and international center of business and communication excellence and innovation and to be positioned as the exhibition industry leader of the Adriatic Ionian region.